REFURBISHED
Branded Office Chairs Up to 80% Discount
*Notice: You may experience delays on orders made within the promo period but are expected to be despatched on the first two(2) weeks of January 2023. Our email and chat channels are open to further assist you with any questions and/or concern. We apologize for the inconvenience and thank you for your understanding.
THE UK'S LEADING STOCKISTS OF REFURBISHED BRANDED OFFICE FURNITURE
All furniture is carefully restored and re-upholstered. We will not be beaten on price
UP TO 80% OFF ALL OFFICE CHAIRS
Featured Products
We are the UK's largest buyer and seller of all refurbished branded office furniture, such as Herman Miller, Humanscale, Ahrend Royal, Boss Designs, Fritz Hansen, Vitra, and many more.
On average, most office workers spend over 40 hours a week sitting down at their desk. With so many of us spen...
From interviewing potential employees to confidential meetings with clients, your meeting room is home to some...
As we spend so much time at work, it's important to try to make the experience as comfortable as possible....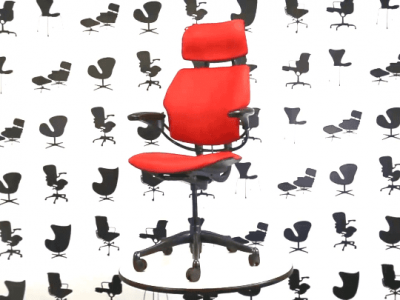 Showcasing here our Freedom Range, High Back in leather. Recycled to a new condition with newly upholstered leather finish. Available in all colours.

What People Has To Say About Us
Trust Pilot Reviews
I was a bit wary of buying a secondhand or refurbished chair but also didn't want to spend too much on a chair for my home office. I eventually took the plunge and bought a Humanscale Liberty chair from Corporate Spec. The online team really helped and the chair was delivered within 3 days. The chair itself is as good as new, save for a couple of tiny scuff marks but definitely worth it and I've saved hundreds of pounds by getting a chair from Corporate Spec rather than a new one. Highly recommend them!
I purchased a refurbished chair from Corporate Spec a few months ago. The first chair I received had a broken part (presumably as a result of shipping), but after getting in touch they sent out a replacement immediately, no questions asked. A few months down the line and another issue arose with my chair (again, not corporate specs fault), and after getting in touch again another replacement was immediately sent out, no questions asked.
Customer service has been extremely fast and friendly. They've always been happy to help.
The refurbished chair I received was immaculate - basically brand new.
I will definitely be buying from Corporate Spec in the future and have already recommended to family and friends.
Called up to enquire about a bulk buy deal on a few office chairs on Wednesday, agreed a good price with the very polite and helpful salesperson, and the chairs were with me exactly when they promised, early Friday morning, they're great quality, you would think they were new not refurbs. As an office manager who has been messed around A LOT in the past by other office furniture suppliers I'm really chuffed to have found one so efficient!
This is a truly exceptional company. Having bought a recommended ergonomic chair for my son who is 6ft 8ins tall, it was perfect.
When one of the legs sheared off of the base, there was no quibbling about sending a replacement. Also, when damage was caused to the gas riser when trying to remove the old base I was truly impressed when they sent out not only a replacement, but a technician to fit it. Fantastic service.
I have no hesitation in recommending this company to anyone who is looking to buy a quality office chair, as they offer guidance, prompt service and reasonable cost.