Refurbished Allermuir Conic A630 – Grey Fabric
Introducing the Refurbished Allermuir Conic A630 Tub Chair in Grey Fabric. This chair combines style, comfort, and a fresh twist to create a captivating seating option for any space.
The Conic A630 Tub Chair features a wire frame finished in Polished Chrome frame that adds stability and a touch of elegance. Its conical shape and form make it a visually appealing piece that draws inspiration from contemporary soft seating designs throughout the decades. With its inviting levels of comfort, this chair is sure to provide a cozy and welcoming seating experience for anyone who sits in it.
The Grey Fabric upholstery adds a pop of color and vibrancy to any environment. It breathes new life into the Conic A630 , giving it a fresh and modern look. The attention to upholstery detail further enhances the overall aesthetic appeal of this chair.
Designed by Luke Pearson and Tom Lloyd, renowned product and furniture design consultants, the Conic A630 is a result of their creative collaboration and expertise. Their extensive experience working with international clients and acclaimed design studios shines through in the quality and craftsmanship of this chair.
Whether placed in a lounge area, reception space, or collaborative setting, the Refurbished Allermuir Conic A630 Tub Chair is sure to make a statement. It offers a comfortable and visually striking seating solution that caters to various uses and spaces.
As a refurbished piece, this chair has undergone a thorough restoration process to ensure its functionality and aesthetic appeal. It has been meticulously inspected and cleaned to meet the highest standards of quality and durability.
Product Specifications if the Allermuir Conic A630
| | |
| --- | --- |
| Overall Height | 810 mm |
| Overall Width | 780 mm |
| Overall Depth | 660 mm |
| Seat Height | 490 mm |
| Seat Width | 470 mm |
| Seat Depth | 480 mm |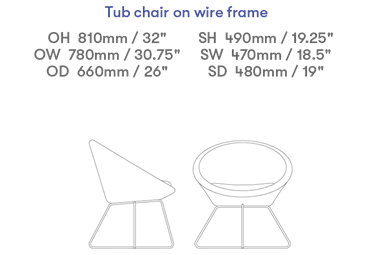 For more information about this product, visit the official Allermuir Website
More from Allermuir at Corporate Spec,
Refurbished | Allermuir | Conic | A630 | Purple Fabric
Corporate Spec are the UK's largest and leading stockist of refurbished branded office chairs. Every effort is made during our refurbishment process to make your chair look as good as new or as near to new as we possibly can. This process includes a thorough deep clean, a frame re-spray if necessary, replacement gas, new arm caps and a complete re-cover with new fabric or leather. Once your chair is ready for despatch, it is inspected once more before packing. Your refurbished office chair will arrive in a tri-walled cardboard to protect it during transit. If it being delivered with our own transport, it will be covered in plastic sheeting.