Refurbished Allermuir Jojo – A592 – Low Stool – Walnut Shell
Introducing the Refurbished Allermuir Jojo A592 Low Stool with a PU Wood Seat. This elegant and curvaceous stool offers both style and comfort, making it a fantastic addition to any space.
The Jojo Low Stool features a wood shell seat, crafted from 3D veneered plywood or PU (polyurethane). This unique design provides a comfortable and ergonomic shape that supports the user for extended periods. The wood seat adds a touch of natural warmth and sophistication to the overall aesthetic of the stool.
The stool is supported by a 4-leg frame, which complements the seat design with its sleek and sturdy construction. This variety allows for versatility in choosing the stool that best suits your needs and preferences.
As a refurbished piece, the Refurbished Allermuir Jojo A592 Low Stool has undergone a meticulous restoration process to ensure its optimal condition. Our refurbishment experts have inspected, cleaned, and restored the stool, ensuring that it meets our high standards of quality and functionality.
Product Specifications of the Allermuir Jojo: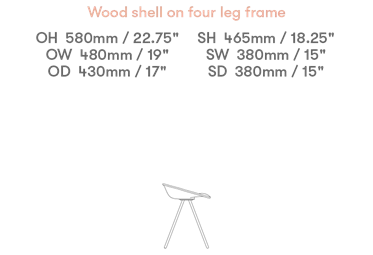 Click the link below for more information about this product:
Allermuir | Jojo | A592
More from Allermuir at Corporate Spec,
Allermuir | Jojo| A591
Corporate Spec are the UK's largest and leading stockist of refurbished branded office chairs. Every effort is made during our refurbishment process to make your chair look as good as new or as near to new as we possibly can. This process includes a thorough deep clean, a frame re-spray if necessary, replacement gas, new arm caps and a complete re-cover with new fabric or leather. Once your chair is ready for despatch, it is inspected once more before packing. Your refurbished office chair will arrive in a tri-walled cardboard to protect it during transit. If it being delivered with our own transport, it will be covered in plastic sheeting.