Refurbished Allermuir Mollie A685 – Violet Fabric
At CorporateSpec, we believe in sustainability and eco-friendliness. That's why we're proud to offer a range of refurbished office furniture that not only looks great but is also good for the environment. Our Allermuir Mollie Violet Fabric chair is a perfect example of this commitment to sustainability. Made with high-quality materials and designed to last, this chair is the perfect addition to any office or workspace.
Our new variants of this popular chair retain the classic silhouette of the original design whilst featuring a deeper, fuller back support and a slightly more generous seat width. A luxurious and satisfying design, Mollie is suited to hotel and restaurant dining, bars or corporate environments.
Features & Benefits of the Allermuir Mollie A685:
1. Sustainable: Our Allermuir Mollie Violet Fabric chair is refurbished, which means it's been given a new lease on life instead of ending up in a landfill. By choosing refurbished furniture, you're helping to reduce waste and protect the environment.
2. High-Quality Materials: We only use the highest quality materials in our refurbished furniture, ensuring that your Allermuir Mollie Violet Fabric chair will last for years to come.
3. Comfortable: The Allermuir Mollie Violet Fabric chair is designed with comfort in mind. With its soft fabric upholstery and ergonomic design, you'll be able to work comfortably for hours on end.
4. Stylish: This chair is not only comfortable but also stylish. The Violet fabric upholstery adds a touch of elegance to any office or workspace.
5. Cost-Effective: Refurbished furniture is a cost-effective solution for those looking to furnish their office or workspace. Our Allermuir Mollie Violet Fabric chair is no exception, offering high-quality at an affordable price.
Product Specifications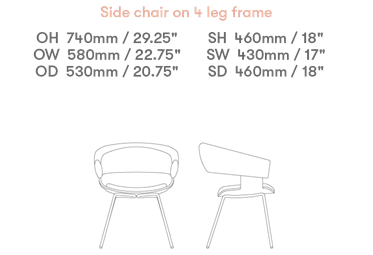 Corporate Spec are the UK's largest and leading stockist of refurbished branded office chairs. Every effort is made during our refurbishment process to make your chair look as good as new or as near to new as we possibly can. This process includes a thorough deep clean, a frame re-spray if necessary, replacement gas, new arm caps and a complete re-cover with new fabric or leather. Once your chair is ready for despatch, it is inspected once more before packing. Your refurbished office chair will arrive in a tri-walled cardboard to protect it during transit. If it being delivered with our own transport, it will be covered in plastic sheeting.