Refurbished Modernica Case Study Furniture Arm Shell Rolling – Grass Green
The Fiberglass Shell Chair is easily one of the most important and recognizable designs of the twentieth century. They were originally designed in 1948, as an entry in The Museum of Modern Art's International Design Competition. At the time, no one could possibly have anticipated the massive success and longevity of this iconic design.
For 30 years, Modernica has proudly built each piece of furniture, one-by-one, at its five-acre campus in Los Angeles. It has been family owned and operated since it opened and is home to a world-class upholstery and woodshop.
Modernica is responsible for revitalizing the almost lost art of high-pressure fiberglass molding. The factory is home to the historic fiberglass presses and specialized machinery that has been used in the production of thousands of chairs for over three generation. Since 1999, Modernica has steadfastly produced the chairs as they were originally created, preserving fiberglass chair legacy and craft.
Product Specifications: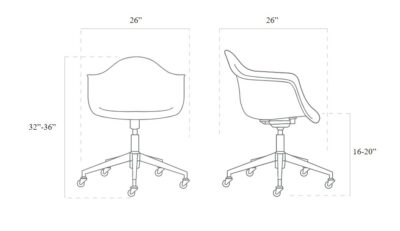 Corporate Spec are the UK's largest and leading stockist of refurbished branded office chairs. Every effort is made during our refurbishment process to make your chair look as good as new or as near to new as we possibly can. This process includes a thorough deep clean, a frame re-spray if necessary, replacement gas, new arm caps and a complete re-cover with new fabric or leather. Once your chair is ready for despatch, it is inspected once more before packing. Your refurbished office chair will arrive in a tri-walled cardboard to protect it during transit. If it being delivered with our own transport, it will be covered in plastic sheeting.