Refurbished Techo Cara Highline – Blue Interior
The Refurbished Techo Cara Highline with Blue Interior and Grey Exterior is a privacy solution designed to provide isolation and privacy within open areas. Here's an overview of its features and characteristics:
Features of the Cara Highline:
Refurbished Option: The mention of the product being refurbished indicates that it has been restored to a good condition, offering a sustainable and cost-effective option for obtaining quality privacy solutions.
Cara Highline Design: The product is a part of the Cara family and specifically falls under the "Cara Highline" category, suggesting a specialized design that addresses the need for privacy in open areas.
Blue Interior and Grey Exterior: The product features a color combination of blue for the interior and grey for the exterior. This color scheme contributes to its aesthetic appeal and can complement various interior design styles.
Privacy Solution: The product is designed to provide privacy solutions within open areas, allowing users to have a partially isolated environment.
Straight, Clear Lines: The design of the Cara Highline is characterized by straight and clear lines that define the boundaries of privacy, contributing to a sleek and modern appearance.
Contoured Design: The contoured design of the product is intentional, aimed at reducing peripheral vision and minimizing external noise, enhancing the privacy experience.
TECHO Soft Seating Collection: The product is a part of the TECHO soft seating collection, which is characterized by innovative comfort, ergonomics, and pleasing visual design and materials. This suggests a focus on creating comfortable and aesthetically pleasing seating solutions.
Versatile Use: The TECHO soft seating collection is designed to suit a wide range of requirements, from offices and hotels to hospitals and homes, indicating its versatility in different environments.
Quality and Functionality: The concept for the product range was created with a focus on quality and functionality, ensuring that the products meet the standards of durability and usability.
Customizable: The products in the TECHO soft seating collection are designed to be modifiable according to customer requirements, even for large volume orders, ensuring flexibility and adaptability to specific needs.
Summary:
The Refurbished Techo Cara Highline with Blue Interior and Grey Exterior is a privacy solution designed to offer isolation and privacy within open areas. With its distinctive design, color combination, and contoured features, it aims to reduce peripheral vision and external noise. As part of the TECHO soft seating collection, it aligns with a focus on comfort, ergonomics, and visual design. Its versatility makes it suitable for various settings, and its customizable nature allows it to cater to specific requirements. Overall, the product presents an option for enhancing privacy and creating functional, comfortable spaces in different environments.
Product Specification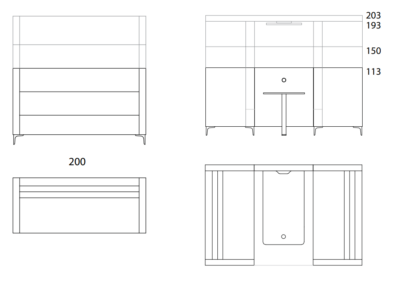 For more information about this product,
Visit: Techo | Booth | Cara Highline
More from Corporate Spec,
Refurbished | Buzzi Space | BuzziMe | Lounge Chair with a Rotatable Tablet | Green Fabric
Corporate Spec are the UK's largest and leading stockist of refurbished branded office chairs. Every effort is made during our refurbishment process to make your chair look as good as new or as near to new as we possibly can. This process includes a thorough deep clean, a frame re-spray if necessary, replacement gas, new arm caps and a complete re-cover with new fabric or leather. Once your chair is ready for despatch, it is inspected once more before packing. Your refurbished office chair will arrive in a tri-walled cardboard to protect it during transit. If it being delivered with our own transport, it will be covered in plastic sheeting.