Refurbished Vitra Alcove High Back Sofa – 2 Seater – Red Fabric
The Refurbished Vitra Alcove High Back Sofa, designed by Ronan & Erwan Bouroullec, is a distinctive piece of furniture known for its unique design and acoustic qualities. Here's an overview of its features and qualities:
Design Philosophy:
Concept of Seclusion: The central idea behind the Alcove High Back Sofa is to create a sofa that offers more than just a place to sit. It's designed to provide a sense of seclusion and privacy for those sitting in it. The high side and back panels create a sheltered and intimate space within the sofa.
Features:
High Back and Side Panels: The defining feature of the Alcove High Back Sofa is its high side and back panels that extend above the heads of those seated. This design element not only provides visual privacy but also contributes to its acoustic properties by reducing external noise and creating a quieter space within.
Acoustic Qualities: Thanks to its high panels and upholstered design, the Alcove High Back Sofa offers excellent acoustic properties. It acts as a visual and sound barrier, making it ideal for creating a peaceful oasis within larger living areas or open office spaces.
Materials: The sofa's construction includes high-gloss chromed tubular steel, a metal frame with belt upholstery, and panels made of fiberglass-reinforced plastic. The seat cushions consist of polyurethane foam and polyester wool, while the back cushions and cushion set contain polyurethane chips and micro-fiber filling. These materials contribute to both comfort and durability.
Functional Design:
Room within a Room: When two Alcove High Back Sofas are positioned face to face, they effectively create a room within a room. This design approach allows users to define and separate spaces within larger environments, enhancing the overall functionality of the furniture.
Summary:
The Refurbished Vitra Alcove High Back Sofa is an exceptional piece of furniture that redefines the concept of a sofa. It prioritizes privacy, comfort, and acoustic performance, making it ideal for creating quiet and intimate spaces within larger living areas or open office layouts. Its innovative design, high-quality materials, and ability to function as a visual and sound barrier contribute to its reputation as a distinctive and functional piece of furniture.
Product Specification of the Vitra Alcove
| Height | 1360 mm |
| --- | --- |
| Width | 1640 mm |
| Seat Height | 485 mm |
| Depth | 860 mm |
| Seat width | 1490 mm |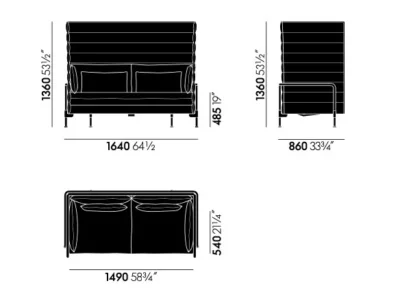 For more information about this product,
Visit: Vitra | Products | Alcove
More from Vitra at Corporate Spec,
Refurbished | Vitra | Charles Eames | EA108 Office Chair | White Mesh | Chrome Frame
Corporate Spec are the UK's largest and leading stockist of refurbished branded office chairs. Every effort is made during our refurbishment process to make your chair look as good as new or as near to new as we possibly can. This process includes a thorough deep clean, a frame re-spray if necessary, replacement gas, new arm caps and a complete re-cover with new fabric or leather. Once your chair is ready for despatch, it is inspected once more before packing. Your refurbished office chair will arrive in a tri-walled cardboard to protect it during transit. If it being delivered with our own transport, it will be covered in plastic sheeting.