Refurbished Vitra Eames Plastic Side Chair PSCC – White Shell – Ocean Seat
The Eames Plastic Armchair PSCC feauture a height-adjustable five-star base on castors with spring and swivel functions. The chair offer pleasant comfort in office environments where work tasks require shorter periods of sitting. The Eames Plastic Chairs are renewed versions of the legendary Fiberglass Chair. As the very first industrially produced plastic chair, it was originally developed by the Eameses in collaboration with Zenith Plastics for the 'Low-Cost Furniture Design' competition organised by the Museum of Modern Art. In the current versions made of polypropylene, these chairs provide even greater comfort. The wide selection of bases makes it possible to use the chairs in a variety of settings: from the dining room or home office to the garden. Different colours and upholstery versions provide many options for combining individual chairs to meet various needs. In 2015, Vitra adapted the seat geometry and height of the Eames Plastic Chairs to today's requirements.
Product Specification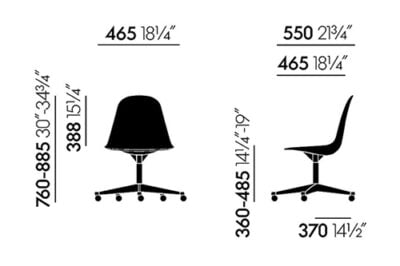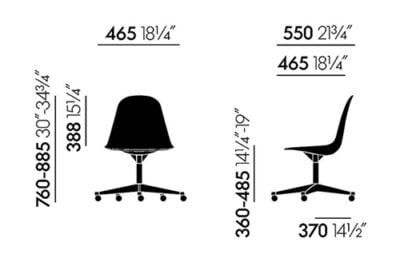 Corporate Spec are the UK's largest and leading stockist of refurbished branded office chairs. Every effort is made during our refurbishment process to make your chair look as good as new or as near to new as we possibly can. This process includes a thorough deep clean, a frame re-spray if necessary, replacement gas, new arm caps and a complete re-cover with new fabric or leather. Once your chair is ready for despatch, it is inspected once more before packing. Your refurbished office chair will arrive in a tri-walled cardboard to protect it during transit. If it being delivered with our own transport, it will be covered in plastic sheeting.