Refurbished Vitra HAL RE – Wood Chair – White Plastic Shell
Elevate Your Workspace with Refurbished Vitra HAL RE – Wood Chair – White Plastic Shell
Experience the perfect blend of form and function with the Refurbished Vitra HAL RE Wood Chair. Designed by the renowned Jasper Morrison for Vitra, this chair seamlessly combines the warmth of oak wood with a sleek white plastic shell.
Features that Make a Statement:
Timeless Design: The HAL RE Wood Chair is a timeless piece of furniture. Its simple yet elegant design ensures it complements a variety of interior styles.
Quality Craftsmanship: The chair's base is crafted from oak wood, renowned for its durability and natural beauty. The shell is made from recycled, mass-dyed polypropylene, offering sustainability and strength.
Versatile Use: Whether in your dining room, workspace, or any other setting, the HAL RE Wood Chair adds a touch of sophistication. It's designed to be as versatile as it is stylish.
Renowned Designer: Designed by Jasper Morrison, a prominent figure in contemporary design, this chair carries with it a legacy of excellence.
Elevate your space with the Refurbished Vitra HAL RE Wood Chair, and enjoy the perfect combination of style and comfort. Whether you're sitting down to work or sharing a meal with loved ones, this chair adds a touch of elegance to every moment.
Product Specification of the Vitra HAL RE
| Height | 31.25 in |
| --- | --- |
| Width | 18.75 in |
| Depth | 20 in |
| Seat Depth | 17.5 in |
| Seat Height | 17 in |
| Seat Width | 16.75 in |
| Backrest Height | 13.75 in |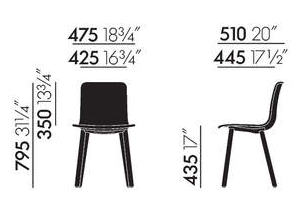 For more information about this product,
Visit: Vitra | High Stool | HAL
More Stools from Vitra at Corporate Spec,
Refurbished | Vitra | Pivot | High Stool | Black
Corporate Spec are the UK's largest and leading stockist of refurbished branded office chairs. Every effort is made during our refurbishment process to make your chair look as good as new or as near to new as we possibly can. This process includes a thorough deep clean, a frame re-spray if necessary, replacement gas, new arm caps and a complete re-cover with new fabric or leather. Once your chair is ready for despatch, it is inspected once more before packing. Your refurbished office chair will arrive in a tri-walled cardboard to protect it during transit. If it being delivered with our own transport, it will be covered in plastic sheeting.