Refurbished Vitra HAL Stool High – Black Shell
The Refurbished Vitra HAL Stool High with a Black Shell represents a classic bar stool designed for both stability and aesthetics. Here's a closer look at its features and the design context:
Features of the Vitra HAL:
Design and Color: The stool features a black seat shell, providing a versatile and timeless aesthetic that can suit various environments.
HAL Stool High Design: The stool is introduced as a classic bar stool with a four-legged base at a standard height. This design aims to provide stability while maintaining a comfortable seating experience.
Jasper Morrison and HAL Family: The stool is developed by designer Jasper Morrison as part of the HAL family of chairs, which includes various versions of bar stools. This suggests that the design takes into account the family's cohesive design language.
Recycled Plastic Shell: The seat shell is described as being made of easy-to-clean recycled plastic, which is not only practical but also aligned with environmental considerations.
Versatility in Use: The stool is suited for tables and counters of 110 cm in height, making it adaptable for various settings, including bar counters, meeting tables, and standing-height desks in offices.
Refurbished Option:
The mention of the stool being refurbished indicates that it has been restored to a good condition. Opting for refurbished furniture can provide an environmentally friendly and cost-effective way to acquire a quality piece.
When considering this stool, make sure to review its dimensions to ensure it fits your intended space. Exploring user reviews or testimonials can also offer insights into comfort, durability, and overall satisfaction.
In summary, the Refurbished Vitra HAL Stool High with a Black Shell offers a blend of classic design, versatility, and an environmentally conscious approach. Its adaptability for different settings and its connection to the broader HAL chair family make it a potential choice for those seeking functional and stylish seating for bar counters, meeting areas, or standing-height workspaces.
Product Specification
| Height | 46.5 in |
| --- | --- |
| Width | 19.5 in |
| Depth | 19 in |
| Seat Depth | 16.5 in |
| Seat Height | 32 in |
| Seat Width | 19.5 in |
| Backrest Height | 14.25 in |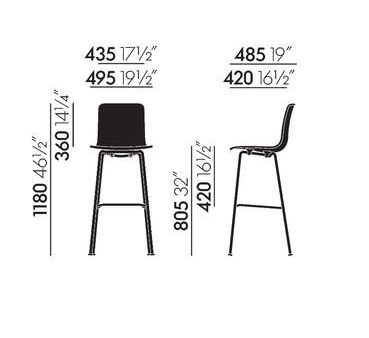 For more information about this product,
Visit: Vitra | High Stool | HAL
More Stools from Vitra at Corporate Spec,
Refurbished | Vitra | Pivot | High Stool | Black
Corporate Spec are the UK's largest and leading stockist of refurbished branded office chairs. Every effort is made during our refurbishment process to make your chair look as good as new or as near to new as we possibly can. This process includes a thorough deep clean, a frame re-spray if necessary, replacement gas, new arm caps and a complete re-cover with new fabric or leather. Once your chair is ready for despatch, it is inspected once more before packing. Your refurbished office chair will arrive in a tri-walled cardboard to protect it during transit. If it being delivered with our own transport, it will be covered in plastic sheeting.