Refurbished Walter Knoll Barcelona – Black Leather
The Refurbished Walter Knoll by Ludwig Mies van der Rohe's Barcelona Chair with Black Leather embodies timeless elegance and meticulous craftsmanship. Here's a closer look at its features and the designer's philosophy:
Features of the Barcelona Chair:
Design and Material: The chair is upholstered in black leather, showcasing a sleek and classic appearance.
Refurbished Option: As previously mentioned, the chair being refurbished indicates that it has been restored to a good condition, providing an eco-friendly and budget-conscious way to acquire high-quality furniture.
Iconic Barcelona Chair: The description emphasizes that the Barcelona Chair is one of the most recognized objects of the last century and a symbol of the modern movement. The chair's simple elegance and graceful profile are said to epitomize Mies van der Rohe's famous maxim, "less is more."
Exceptional Craftsmanship: The chair's craftsmanship is highlighted, from the hand-buffed stainless or chrome frame to the carefully welted leather squares. Each piece is designed as a tribute to the marriage of modern design and exceptional craftsmanship.
Italian Leather: The chair offers repose in Italian leather, which suggests a luxurious and refined seating experience.
Hand-Selected Leather Squares: The chair's detailing includes hand-selected, piped, tufted, and individually sewn leather squares, underlining the attention to detail and expert workmanship.
Stainless Steel Accents: The chair features solid stainless steel accents with a mirror-like finish, adding a touch of polish and sophistication to the design.
Summary:
The Refurbished Walter Knoll Ludwig Mies van der Rohe's Barcelona Chair with Black Leather captures the essence of timeless design and meticulous craftsmanship. Its association with the iconic Barcelona Chair, the philosophy of "less is more," and the emphasis on high-quality materials and craftsmanship make it a potential choice for individuals seeking a piece of furniture that embodies both elegance and exceptional design history in their living spaces.
Product Specifications: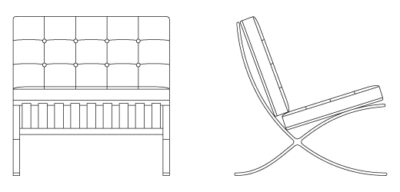 | | w | d | h | seat h |
| --- | --- | --- | --- | --- |
| 250L Barcelona Chair | 29.5″ | 30″ | 30.25″ | 17″ |
For more information about this product,
Visit: Knoll | Workplace | Barcelona® Chair
More from Knoll at Corporate Spec,
Refurbished | Walter Knoll | Bertoia | Diamond Chair | Full Cover | Purple
Corporate Spec are the UK's largest and leading stockist of refurbished branded office chairs. Every effort is made during our refurbishment process to make your chair look as good as new or as near to new as we possibly can. This process includes a thorough deep clean, a frame re-spray if necessary, replacement gas, new arm caps and a complete re-cover with new fabric or leather. Once your chair is ready for despatch, it is inspected once more before packing. Your refurbished office chair will arrive in a tri-walled cardboard to protect it during transit. If it being delivered with our own transport, it will be covered in plastic sheeting.