Refurbished Walter Knoll Brno Tubular Armchair – Chrome frame – Black Fabric
Introducing the Refurbished Knoll Brno Tubular Bar Chair with a Chrome frame and black fabric seat. This iconic chair is renowned for its simplicity in design and is celebrated as a 20th-century design icon, known for its clean lines and meticulous attention to detail.
Originally designed by the renowned architect Mies van der Rohe in 1930 for the Tugendhat House in Brno, Czech Republic, the Brno Chair reflects the groundbreaking simplicity of its original environment. Its sleek profile and clean lines make it a timeless and elegant addition to any space.
The Brno Chair is a perfect choice for meeting rooms, providing a comfortable seating position and exceptional build quality. Crafted with high-quality materials, this chair is a true authentic Knoll product, known for its durability and timeless appeal.
The Tubular Brno Chair is available in both thin- and thick-seat versions, providing options to suit individual preferences. The hand-buffed stainless steel or mirror chrome frame adds a touch of sophistication and complements the black fabric seat, creating a harmonious and stylish combination.
As a refurbished piece, the Refurbished Knoll Brno Tubular Bar Chair has undergone a thorough restoration process to ensure its optimal condition. Our refurbishment experts have inspected, cleaned, and restored the chair, guaranteeing that it meets our high standards of quality and functionality.
Product Specifications of the Knoll Brno Tubular: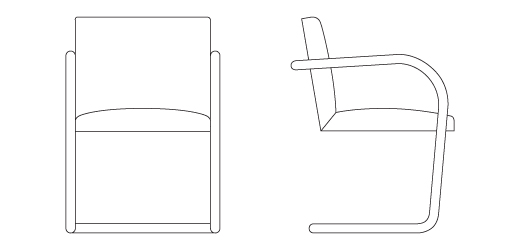 | | w | d | h | seat h | arm h |
| --- | --- | --- | --- | --- | --- |
| 245 Brno Chair – Tubular | 22.75″ | 22.5″ | 31.5″ | 17.25″ | 25.75″ |
For more information about this product,
Please visit: Knoll | Brno Chair | Tubular
Check out this product in black leather,
Refurbished | Walter Knoll | Brno Tubular Armchair | Chrome frame | Black Leather
Corporate Spec are the UK's largest and leading stockist of refurbished branded office chairs. Every effort is made during our refurbishment process to make your chair look as good as new or as near to new as we possibly can. This process includes a thorough deep clean, a frame re-spray if necessary, replacement gas, new arm caps and a complete re-cover with new fabric or leather. Once your chair is ready for despatch, it is inspected once more before packing. Your refurbished office chair will arrive in a tri-walled cardboard to protect it during transit. If it being delivered with our own transport, it will be covered in plastic sheeting.