Refurbished Allermuir Quincy – Honey Yellow Shell
Introducing the Refurbished Allermuir Quincy Chair in Honey Yellow Shell. This modern dining or meeting chair combines elegant design with sustainable materials, making it a stylish and environmentally conscious choice.
The Quincy Chair features a seamless polyurethane (PU) shell in a vibrant honey yellow color, adding a pop of brightness to any space. The chair's shell is not only visually appealing but also durable and easy to maintain. The dark lacquered wood legs complement the honey yellow shell, creating a striking contrast and enhancing the chair's overall aesthetic.
Crafted with a focus on sustainability, the Quincy Chair is designed using only four fully recyclable materials. This commitment to environmental responsibility ensures that the chair meets sound environmental specifications while offering a stylish seating solution for various settings.
The four solid hardwood legs provide stability and durability, while the nylon glides protect your floors from scratches and marks. This combination of materials and design elements results in a chair that is not only visually appealing but also functional and long-lasting.
As a refurbished piece, the Refurbished Allermuir Quincy Chair has undergone a meticulous restoration process to ensure its optimal condition. Our refurbishment experts have inspected and cleaned the chair, addressing any imperfections and ensuring that it meets our high standards of quality and functionality.
Product Specifications of the Allermuir Quincy: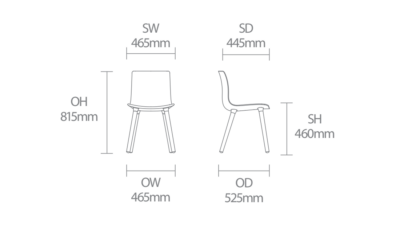 Click the link below for more information about this product:
Brochure | Allermuir | Quincy 
More from Allermuir,
Allermuir | FIFT01 | Beige Leather
Corporate Spec are the UK's largest and leading stockist of refurbished branded office chairs. Every effort is made during our refurbishment process to make your chair look as good as new or as near to new as we possibly can. This process includes a thorough deep clean, a frame re-spray if necessary, replacement gas, new arm caps and a complete re-cover with new fabric or leather. Once your chair is ready for despatch, it is inspected once more before packing. Your refurbished office chair will arrive in a tri-walled cardboard to protect it during transit. If it being delivered with our own transport, it will be covered in plastic sheeting.