Refurbished Maxalto Febo – Contemporary Armchair – High Back – Navy Blue
Introducing the refurbished Maxalto Febo Contemporary Armchair with a high back in a sophisticated Navy Blue color. This armchair is part of the Febo family, a collection renowned for its elegance and versatility. With its enveloping design and attention to detail, this armchair brings a touch of luxury to any space.
Elegant Design and Customization Options: The Febo family offers a range of armchairs distinguished by their backrests, which can be low or high, providing varying levels of comfort and support.
Traditional Inspiration with a Contemporary Twist: The Febo family of sofas and armchairs embodies a traditional design concept with a modern twist. The large enveloping backrest, a hallmark of the Febo collection, creates a sense of comfort and luxury. The armchair with a high back offers added support and creates an inviting atmosphere in any setting. The Febo armchair seamlessly combines traditional design elements with contemporary aesthetics, making it a timeless piece that adds sophistication to any space.
Refurbished to Perfection: At Corporate Spec, we take pride in our refurbishment process, ensuring that each piece meets our high standards of quality. The refurbished Maxalto Febo armchair has undergone a meticulous cleaning, inspection, and repair process. Our skilled refurbishment experts have revitalized the armchair, bringing it back to its optimal condition. With a refurbished armchair, you can enjoy the benefits of a premium piece of furniture at a fraction of the original cost.
Enhance Your Space with Corporate Spec: Corporate Spec is committed to providing top-quality refurbished furniture that elevates your space while fitting within your budget. The refurbished Maxalto Febo armchair is a testament to our dedication to delivering exceptional products that combine style, comfort, and durability.
Product Specification of the Maxalto Febo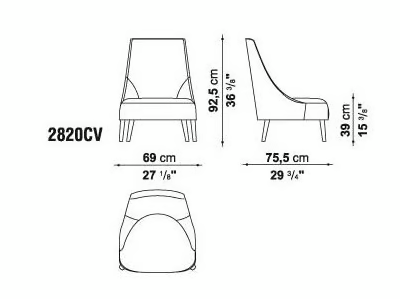 Corporate Spec are the UK's largest and leading stockist of refurbished branded office chairs. Every effort is made during our refurbishment process to make your chair look as good as new or as near to new as we possibly can. This process includes a thorough deep clean, a frame re-spray if necessary, replacement gas, new arm caps and a complete re-cover with new fabric or leather. Once your chair is ready for despatch, it is inspected once more before packing. Your refurbished office chair will arrive in a tri-walled cardboard to protect it during transit. If it being delivered with our own transport, it will be covered in plastic sheeting.