Refurbished Walter Knoll Florence Coffee Table – Marble Top
The Refurbished Walter Knoll Florence Coffee Table with a Marble Top is a representation of the iconic Florence Knoll Coffee and End Tables, originally designed in 1954 by Florence Knoll. Here's a closer look at its features and characteristics:
Features of the Florence Coffee Table:
Refurbished Option: The mention of the product being refurbished indicates that it has been restored or repaired to restore it to good condition, providing a sustainable and budget-friendly way to acquire a quality coffee table.
Walter Knoll Florence Coffee Table: The coffee table is part of the Florence Knoll Coffee and End Table Collection designed by Walter Knoll, embodying the geometric forms and rational design approach of mid-century modern architecture.
Marble Top: The coffee table features a tabletop made of natural marble, adding a touch of luxury and elegance to the design. Marble is known for its timeless beauty and durability.
Scaled-Down Translation: Similar to the lounge chair and other designs in the Florence Knoll collection, the coffee table is a scaled-down translation of modern architectural elements, reflecting the design philosophy of the era.
Spare Geometric Presence: The coffee table, like other pieces in the collection, boasts a spare, geometric presence that reflects Florence Knoll's commitment to objective perfectionism and rational design.
Objective Perfectionism: The design of the coffee table reflects Florence Knoll's objective perfectionism, emphasizing clean lines, functionality, and meticulous attention to detail.
Modern and Timeless: The coffee table's geometric presence and use of materials from modern architecture make it both a modern and timeless piece, suitable for various interior design styles.
Construction and Details:
Frame: The frame of the coffee table is constructed using welded square steel tubes with a polished chrome finish, enhancing its structural integrity and providing a sleek and modern aesthetic.
KnollStudio Logo and Signature: The coffee table features the KnollStudio logo and Florence Knoll's signature stamped into the frame, symbolizing the authenticity and quality associated with the Walter Knoll brand.
Summary:
The Refurbished Walter Knoll Florence Coffee Table with a Marble Top pays homage to the iconic Florence Knoll Coffee and End Table Collection from 1954. Its scaled-down translation of architectural elements, spare geometric presence, and focus on objective perfectionism create a piece that is both modern and timeless. The use of natural marble for the tabletop and the polished chrome finish of the frame add to its luxurious appeal. This coffee table offers a blend of sophistication, functionality, and craftsmanship, making it a stylish addition to various interior settings.
Product Specifications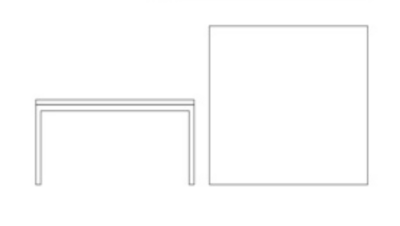 | | w | d | h |
| --- | --- | --- | --- |
| 2512L Square Coffee Table, low | 47.25″ | 47.25″ | 13.75″ |
For more information about this product,
Please visit the official website of Workplace | Florence Knoll™ Coffee and End Tables
More Tables at Corporate Spec,
Refurbished | Fritz Hansen | PK61 | Coffee Table by Poul Kjærholm
Corporate Spec are the UK's largest and leading stockist of refurbished branded office chairs. Every effort is made during our refurbishment process to make your chair look as good as new or as near to new as we possibly can. This process includes a thorough deep clean, a frame re-spray if necessary, replacement gas, new arm caps and a complete re-cover with new fabric or leather. Once your chair is ready for despatch, it is inspected once more before packing. Your refurbished office chair will arrive in a tri-walled cardboard to protect it during transit. If it being delivered with our own transport, it will be covered in plastic sheeting.