Refurbished Walter Knoll Florence Sofa – 3-Seater – Dark Brown Leather
The Refurbished Walter Knoll Florence Sofa in a 3-Seater configuration with Dark Brown Leather upholstery offers a combination of classic design and high-quality craftsmanship. Here's a breakdown of its features and characteristics:
Features:
Refurbished Option: The mention of the product being refurbished indicates that it has undergone restoration or repairs to restore it to a good condition, providing a sustainable and budget-friendly way to acquire a quality sofa.
Walter Knoll Florence Sofa: The product is part of the Florence Knoll Sofa series designed by Walter Knoll, renowned for its emphasis on clean lines, geometric forms, and mid-century modern aesthetics.
3-Seater Configuration: The sofa is designed to accommodate three individuals, providing ample seating space for a small group.
Dark Brown Leather Upholstery: The sofa is upholstered in dark brown leather, a classic and timeless choice that adds warmth and elegance to the design.
Scaled-Down Translation: The design of the Florence Knoll Sofa is inspired by mid-century modern architecture. It is a scaled-down translation of the proportions and rhythm of that era's architectural style.
Rational Design Approach: The sofa's spare, geometric profile reflects the rational design approach that Florence Knoll learned from her mentor, Mies van der Rohe. This approach emphasizes functionality and simplicity.
Modern and Timeless: The sofa's design is both modern and timeless, combining clean lines and geometric forms that remain relevant across different design eras.
Construction and Details:
Exposed Metal Frame and Legs: The sofa features an exposed metal frame and legs made from heavy gauge steel with a polished chrome finish. This adds to the sofa's modern aesthetic and provides structural support.
Inner Frame: The inner frame of the sofa is constructed from solid wood, contributing to its durability and stability.
Summary:
The Refurbished Walter Knoll Florence Sofa, with its 3-Seater configuration and Dark Brown Leather upholstery, embodies the essence of mid-century modern design. Its clean lines, geometric forms, and rational design approach create a modern and timeless piece of furniture. The exposed metal frame and solid wood inner frame ensure both structural integrity and aesthetics. Overall, this sofa offers a combination of comfort, style, and quality craftsmanship, making it a versatile addition to various interior settings.
Product Specification of the Florence Knoll Sofa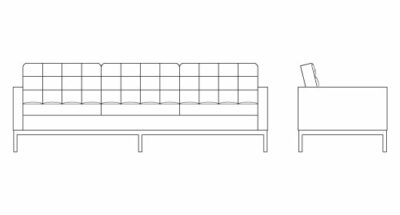 | | w | d | h | seat h | arm h |
| --- | --- | --- | --- | --- | --- |
| 1205S3 Florence Knoll Sofa | 90.5″ | 32.25″ | 31.25″ | 17.5″ | 23.5″ |
For more information about this product,
Visit: Knoll | Shop & Browse| Florence Knoll™ Sofa
More from Knoll at Corporate Spec,
Refurbished | Walter Knoll | Florence Armchair | Dark Brown Leather
Corporate Spec are the UK's largest and leading stockist of refurbished branded office chairs. Every effort is made during our refurbishment process to make your chair look as good as new or as near to new as we possibly can. This process includes a thorough deep clean, a frame re-spray if necessary, replacement gas, new arm caps and a complete re-cover with new fabric or leather. Once your chair is ready for despatch, it is inspected once more before packing. Your refurbished office chair will arrive in a tri-walled cardboard to protect it during transit. If it being delivered with our own transport, it will be covered in plastic sheeting.